About the author: Deuhb Emmanuel Zyzou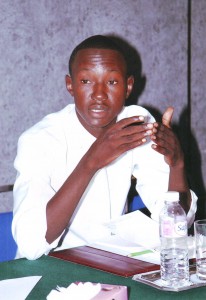 Informaticien de formation à HEC TCHAD, il a été infographiste puis chargé de l'édition aux Editions Sao (une maison d'édition de livre) pendant 5 ans (jusqu'à 2015). Activiste bloggeur. Jeune ambassadeur de UNFPA Chad. Membre à Youth Council (US Embassy Chad). Chargé des affaires culturelles à l'association Tchad Plus, qui l'ont conduit à effectuer quelques voyages en Tunisie, en Indonésie, au Sénégal. Très touché par les questions liées aux droits humains, il a tout laissé pour se consacrer aux études de droit en 2015 (faculté des sciences juridiques et politiques de l'université de N'djamena).
Ici vous trouvez:
Rapportage de N'djamena, Tchad.
Get more stuff like this

in your inbox
Subscribe to our mailing list and get interesting stuff and updates to your email inbox.