Sapin Makengele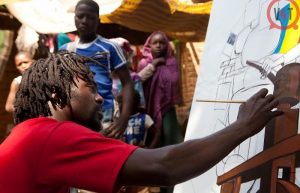 Born in 1980 in Kinshasa, Sapin Makengele is a self-taught Congolese popular painter. Within the CTD research project, he collaborated with PhD researcher Catherina Wilson. He took part in the CTD seminar series and contributed to the CTD conference in N'Djaména, Tchad, a.o. with a public painting performance in the market of Moursal.
In his paintings, Sapin often depicts and comments upon the Kinois social and political lifeworlds. Yet the topics he deals with are not limited to the DRC. Since he exposed in the Biennale de Dakar for contemporary African art in 2006, Sapin's work has travelled around the globe and has been presented in different countries, among which: France, Belgium, Germany, Austria, United States, Canada, Congo-Brazzaville, South Africa, and The Netherlands.
Before becoming involved in the CTD project, Sapin had already assisted several researchers in Kinshasa. He has been involved in different projects that combine art and academics, most notably in the historical documentary 'Les Fantômes de Lovanium' on the student revolts of 1969-1971 in Kinshasa. In addition to art, Sapin's interests include Congolese history and music.
Get more stuff like this

in your inbox
Subscribe to our mailing list and get interesting stuff and updates to your email inbox.