CTD Seminar Series: André Shamba, 28 October 2014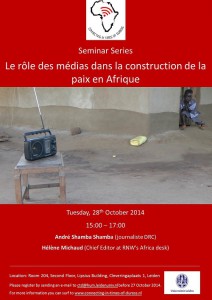 'Le rôle des médias dans la construction de la paix en Afrique' by André Shamba Shamba, journalist from DRC and discussion introduced by Hélène Michaud, Chief Editor at RNW's Africa desk.
Les médias sont devenus de plus en plus saillants dans les processus de paix dans les pays d'Afrique subsaharienne, surtout dans un contexte de (post-)conflit .
Cet exposé interroge le rôle des médias dits 'traditionels' et aussi des nouvelles TICs (Technologies de Communication et Information) dans les processus de paix en Afrique. Pour ce but nous discutons l'histoire et la pratique de différents médias de paix en Afrique. Nous présentons le cas de la Radio Okapi au Congo-Kinshasa, une radio qui est devenu la référence actuelle pour les médias de paix, et que nous plaçons en relation à d'autres initiatives au Burundi, en Centrafrique, au Mali et au Tchad. Tous, des pays dans lesquels la paix est plutôt un rêve qu'une réalité et ou la liberté d'expression et de la presse sont en lutte permanente.
Aujourd'hui nous ne pouvons pas comprendre le rôle de ces médias de paix sans tenir compte des effets des nouvelles TICs. En outre, ces TICs influencent les médias dits traditionnels, tels que la radio, mais émergent à la fois comme un média nouveau, par exemple les pages de Facebook, les téléphone mobiles, et les médias sociaux.
Location: Room 2.04, Second Floor, Lipsius Building, Cleveringaplaats 1, Leiden.
Please register by sending an e-mail to ctd@hum.leidenuniv.nl before 27 October 2014.
Get more stuff like this

in your inbox
Subscribe to our mailing list and get interesting stuff and updates to your email inbox.